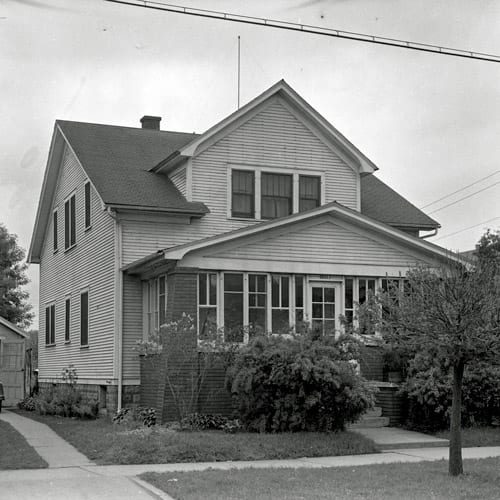 Curious about your house?
We can help you research your house or any other type of building. This guide lists local resources you can use. We included material found at the Grand Rapids History Center, and also from other sources.
*Home access to the subscription databases is limited to Grand Rapids Public Library cardholders only. Sign up for a library card here.
Real Estate Listing Cards
Shows information and a picture for houses listed for sale through a realtor from the 1950s-1990s. These are physical items, visit us or contact us to request the cards for a specific address. 
City Directories
Lists who lived at an address, or what business was there. They also show what people's occupations were. Tip: Many addresses in Grand Rapids changed in 1912.
Sanborn Fire Insurance Maps
Show building structures, property uses and other information
Plat Maps
Indicate land owners and building locations.
Photographs
Photographs of specific houses or buildings can be challenging to find. Real estate listing cards and appraisal cards are the best places to check. Tip: for commercial buildings you can use city directories to find previous occupants and search using those names.
You can also try:
Assessor Records
Assessing records contain information about properties and buildings, such as owner, legal description, build date, structure description and photographs. Tip: You can request assessor records from most city or township offices.
Aerial and topographic maps
View current or historic aerial or topographic maps of a location.
Property deeds
Property records showing transfers in ownership.