One Book, One City for Kids
One Book, One City for Kids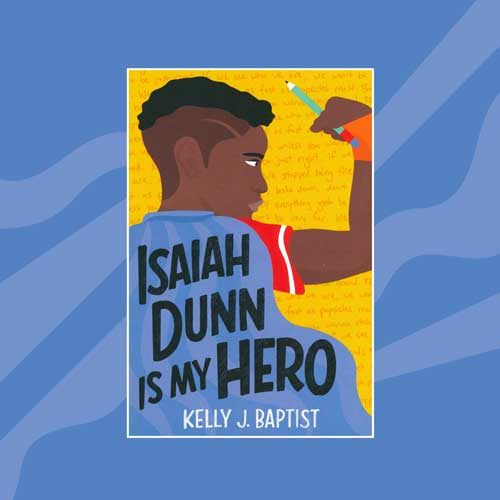 Read with us!
One Book, One City for Kids is an annual reading program that encourages upper elementary students to read and discuss the same book. The program also helps to develop a lifelong love of reading among school-age readers, to inspire readers to bring story ideas and themes to life through discussion and creative reactions, and to build collaborative ties between public libraries, school libraries, and area schools.
This year's One Book, One City for Kids selection is Isaiah Dunn Is My Hero by Kelly J. Baptist.
About the author
Kelly J. Baptist was born and raised in the great state of Michigan, and although she has lived in Alabama, Florida, and Minnesota, she found her way right back home. She's been writing since...well, since she learned how to write!
She won the 2015 We Need Diverse Books short story contest with "The Beans and Rice Chronicles of Isaiah Dunn," which is included in the middle grade anthology Flying Lessons and Other Stories. As a result of her work in an urban school district, Kelly felt compelled to continue Isaiah's story with Isaiah Dunn Is My Hero and Isaiah Dunn Saves The Day.
Kelly has also written a picture book, The Electric Slide and Kai, and a middle grade novel, The Swag Is In The Socks. When she's not actually writing, Kelly is usually thinking about new story ideas…and dreaming of
palm trees. She keeps beyond busy with her five children, who always give her plenty of story ideas and background noise to write to.
Find out more about Kelly at www.kellyiswrite.com.
What happens in the book?
Isaiah is now the big man of the house. But it's a lot harder than his dad made it look. His little sister, Charlie, asks too many questions, and Mama's gone totally silent.
Good thing Isaiah can count on his best friend, Sneaky, who always has a scheme for getting around the rules. Plus, his classmate Angel has a few good ideas of her own—once she stops hassling Isaiah.
And when things get really tough, there's Daddy's journal, filled with stories about the amazing Isaiah Dunn, a superhero who gets his powers from beans and rice. Isaiah wishes his dad's tales were real. He could use those powers right about now!
Kelly J. Baptist's debut novel explores the indomitable spirit of a ten-year-old boy and the superhero strength it takes to grow up.
Cover illustration by Lacy Jordan
Teacher Resources
View these resources for your classroom.