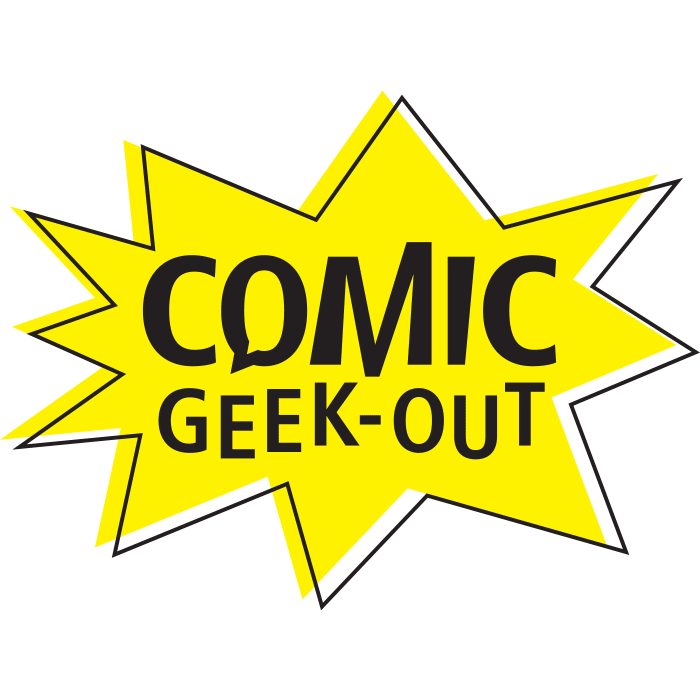 Saturday, July 15, 2023, 1:00 – 5:00 pm
Yankee Clipper Branch – 2025 Leonard NE
Discover your inner hero at the library's annual comic event. Celebrate the comic books you love and geek out on your favorite fandom. Join us for hands-on activities, snacks, free books, a comic workshop, and other fun events designed for all ages. 
Attendees can take home a free 2023 Comic Geek Out poster designed by Cody Coppernoll and enjoy free snacks and refreshments while supplies last. Events take place both indoors and outside at the Yankee Clipper Branch. All activities will be moved indoors in case of inclement weather.
Meet and Greet with Voice Actor Jonah Scott
2:00 – 3:00 pm
Yankee Clipper Branch – Library on the Lawn
Jonah Scott will be onsite from 1:00 – 5:00 pm.
Jonah Scott is a voice actor, singer, and Twitch streamer from Los Angeles, CA. Online and in the booth, he has done voice work with studios in Tokyo and across LA. Jonah has voiced many video games and serials including Dying Light 2, Beastars, Attack on Titan, JoJo's Bizarre Adventure, The Way of the Househusband, and many more.
Jonah Scott is also a classically trained singer with over 15 years of instruction across all disciplines. When he's not behind the mic, he is streaming content to his large Twitch community (twitch.tv/jonahscoot), watching anime or playing Dungeons & Dragons with his friends.
Comic Strip Workshop

1:00 – 2:00 pm
Yankee Clipper Branch – Library on the Lawn
Learn how to create your own comic strip! Find out how to design panels, what gutters are, and how to develop your story. Materials will be provided at the event.
Kids and Comics 101
1:00 – 2:00 pm
Yankee Clipper Branch – Auditorium
Comics are an invaluable way to teach kids how to think and read in a whole new way. Join us with librarian and comics scholar Mary Ruge to learn about the ways this medium helps make reading and education accessible to all ability levels, and gives parents and educators a whole new way to connect to the kids in their life.
Comic Crafts & Trivia
1:00 – 5:00 pm
Yankee Clipper Branch – Library on the Lawn
Create comic crafts led by GRPL librarians and special guests. Enjoy comic-centric trivia and hands-on art-making activities designed for all ages. Materials are free and available while supplies last.
Vault of Midnight Drop-in!
1:00 – 5:00 pm
Yankee Clipper Branch – Library on the Lawn
Join the wonderful VOM staff at their table to chat on recommendations, enjoy an activity, and geek out on the wide selection of comics, mangas and graphic novels available for purchase.
Artists Alley
1:00 – 5:00 pm
Yankee Clipper Branch – Library on the Lawn
Meet talented local artists and enjoy their exceptional artworks that are available for sale during the event.
Tabletop Extravaganza
1:00 – 5:00 pm
Yankee Clipper Branch – Library on the Lawn
Our friends at VOM have donated a selection of tabletop games to play while attending the event. Join your friends, family or GRPL staff for a few non-guided tabletop games.
Professional Cosplayers Meet & Greet
1:00 – 5:00 pm
Yankee Clipper Branch – Library on the Lawn
Meet your favorite characters from multiple franchises and pose for a photo with them at our selfie stations. Show off your photo or cosplay on social media by tagging @grandrapidspubliclibrary for a chance to win a gift card. The winner will be contacted through social media after the event has concluded.
Cosplay Contest
3:00 – 4:30 pm
Yankee Clipper Branch – Auditorium
Showcase your amazing cosplay at Comic Geek Out 2023 to win prizes! Visiting professional cosplayers and GRPL staff will judge their favorite cosplay outfits, and winners will take home prizes.
Cosplay Guidelines
All costumes should provide enough coverage to be worn in public and appropriate for a family-friendly event.

 No flash, fire, explosives, fireworks, smoke (including incense), fog (including dry ice), or incendiary devices, such as caps or smokers, will be allowed.

No chemicals, powders, thrown glitter or confetti will be allowed.

If weapons are part of your costume, they should comply with the following:

No sharp swords or knives or actual working weapons are allowed. Wood, rattan, bamboo, plastic, cardboard, foam, or rubber weapons are acceptable.

Fake firearms are not allowed, even if they follow compliance with authorities and have a fluorescent orange plug in the muzzle.

Inspection of all weapons will be required prior to the event, regardless of material. Contestants are responsible for their own weapons, this includes carrying them throughout the event.

No profanity will be allowed during the event. This includes messages on signs or clothes.