Thursday April 24, 7pm
Presented by Ernie Ostuno, Meteorologist with the National Weather Service in Grand Rapids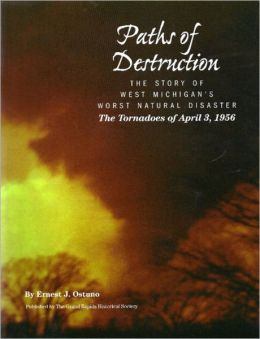 The strongest wind on the surface of Earth in 1956 was on Van Buren Street in Hudsonville, Michigan on April 3, 1956.  There were 17 fatalities (13 in Hudsonville), 340 were injured, and virtually the entire downtown of Standale –Walker's so-called downtown– was leveled.  Many people, some of them badly injured, helped the National Guard in the immediate recovery by searching for neighbors trapped under the debris of what had been their homes.
In this program, Ernie Ostuno will present material from his book on this tornado: "Paths of Destruction: The Story of West Michigan's Worst Natural Disaster."  Tim Gleisner, the head of GRPL's local history department, will also be sharing some of the library's archived materials on the Standale Tornado.  Spend your Thursday learning how this natural disaster has affected our city from the number one authority on the event.
About Ernie
Ernie Ostuno has a B.A. in meteorology from Western Connecticut State University, 1993.  His work experience includes being an Intern/General Forecaster with the National Weather Service Forecast Office in State College, Pennsylvania, from 1994-1999.  Since 1999, he has been a Senior Forecast with the National Weather Service Forecast Office in Grand Rapids, Michigan.  His research projects and professional interests include (a) communication issues, including assessing the effectiveness of wording used in NWS public products, particularly severe weather warnings; (b) creating public weather safety programs, specifically targeted to outdoor enthusiasts such as campers, hikers, and swimmers; and (c) investigating local historical weather events, especially details of how the event changed public awareness, and finding a strategy for overcoming the tendency for complacency towards very rare, extreme events.
About the National Weather Service
The NWS is tasked with providing forecasts, public warnings, and other products to organizations and the public for the purposes of protection, safety, and general information.  This is done through a collection of national and regional centers, and 122 local weather forecast offices (WFOs).  As the NWS is a government agency , most of its products are in the public domain and are available free of charge.
Check out a few videos of the phenomenon on youtube!