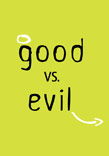 It is time for GR Reads once again! Cue the creepy music. Shudder at the unnatural chill in the air. This summer GR Reads is back and we are looking for revenge! Or, maybe just a good read.
10 books have been chosen and 32 events have been planned. But this time we will be exploring the universal struggle of good vs. evil and our summer programs, inspired by the books, are sure to make the hair on the back of your neck stand up.
So make sure you stop in at one of our eight easy locations, grab a GR Read and start reading!